09/04/2020


Lieutenant Governor Cyrus Habib "soon" to be called Cyrus Habib, sj
The story of a man who drops out politics to enter the Jesuits
Born August 22, 1981 (38 years old) in the Baltimore neighborhood of Baltimore County (not far from Loyola University Maryland – a coincidence?), to parents who previously immigrated in the US from Iran, Cyrus Habib, a three-time cancer survivor, is an American politician, lawyer and educator who is the 16th Lieutenant Governor of Washington State.
His parents, Mo Habib and Susan Amini, both originally from Tehran, escaped Iran in 1979 after Pahlavi dynasty – a pro-Western monarchy – was overthrown and flipped to an anti-Western republic led by Grand Ayatollah Ruhollah Khomeini, and came to America, where Mo attended college at the University of Washington and earned an engineering degree before embarking a career at Boeing, while Susan studied law in Maryland and now is a King County[1] Superior Court Judge.
Cyrus Habib is moved when thinking about his parents: "My parents – because of me becoming blind at a young age and having fought cancer and everything – they were in an interesting position. The decision they made, and they told me this much later, was, "we are not going to let our fear become your fear" (…) They never pushed me. But they gave me the belief that whatever other kids could do, I could do. So, if someone says, "No, you can't do that", I say, "I wanna prove I can do that"." First diagnosed with retinoblastoma when he was only 4 months old, Habib spent the bulk of his childhood fighting cancer, ultimately beating it at age 8, becoming fully blind[2], like an incurable scar reminding him of the price he had to pay for the most beautiful of his victories. Like a long journey in the quest of starting a new life, his family moved short afterwards to Bellevue, WA, where Cyrus graduated from the Bellevue International School – where he learnt to speak French – in 1999.
Lt. Gov. Cyrus appointed as President of the Senate of Washington State
When it comes to make higher education classes, Cyrus turned out to be more than brilliant. First, in 2003, he got graduated Summa cum Laude from his B.A. at Columbia University, having double majored in English and Comparative Literature and Middle Eastern Studies. During this undergraduate period of his life spent between Bellevue and New York City where lay the university, he worked for the offices of US Senator for Washington State Maria Cantwell and US Senator for New York State Hillary Clinton, both Democrats. In 2002, he was appointed Truman then Rhodes scholar. In the same time, he also designed a computer application for helping blind people, which converts text to speech; he is a black belt karateka and instructor; he is a downhill ski master and a published photographer.
Then, at the age of 22, he quit everything he had been building on the Motherland (yet?) and, thanks to the Rhodes scholarship, he flew overseas to go to Oxford, UK where he obtained a Master of Letters in postcolonial English literature from St. John's College, for which he wrote his thesis on American novelist Ralph Waldo Ellison and British Indian essayist Salman Rushdie. There, he converted to Catholicism, at the age of 25, after meeting Timothy Radcliffe, O.P., and the other Dominicans at Blackfriars Hall. The same year, in 2007, he was appointed as a Soros Fellow then came back to America.
Blackfriars Hall – Oxford University, where Cyrus Habib converted to Catholicism
From 2007 to 2009, Cyrus Habib followed the juris doctor at Yale Law School, where he served as the editor of the Yale Law Review. While a law student, he advocated for the redesign of US currency to allow the blind to distinguish denominations, arguing that "money is essential to a person's participation in society. Its accessibility to blind people should be considered as important as that of wheelchair ramps or Braille in elevators." As soon as he graduated from the university laying at New Haven, CT, he crossed the whole country to get back to Seattle where he has worked as a lawyer for Washington State's biggest law firm, Perkins Coie, from 2009 to 2017. At Perkins Coie, Cyrus Habib is considered as "the key contact for civic, diverse, cultural and philanthropic interests and leadership for the firm's Seattle and Bellevue offices. Named a "guiding light" and one of the "Most influential people of 2013 by Seattle Magazine, Cyrus strengthens the firm's community commitments and connections throughout the Pacific Northwest. His goal is to achieve 100-percent lawyer involvement and leadership in Seattle's diverse professional, public and private organizations".
Beginning 2013, he was Professor and Distinguished Lawmaker in Residence at the Seattle University School of Law.
Two years after starting at Perkins Coie, Cyrus began to fight on another field: politics. In 2012, Habib won a seat in the Washington House of Representatives, with 61% of the votes, where he represented the Legislative District where he grew up: the 48th. There, he was selected by his peers to serve as Vice Chair of the House Committee on Technology and Economic Development. Two years later, in 2014, Cyrus Habib was elected to the Washington State Senate with 65%, where he was, immediately after his winning, elected Senate Democratic whip. The same year, Habib was named one of the "40 under 40 political rising stars" by The Washington Post and one of the "12 State Legislators to watch" by Governing Magazine. Seattle had also named him one of the "most influential people in greater Seattle area" for the year before.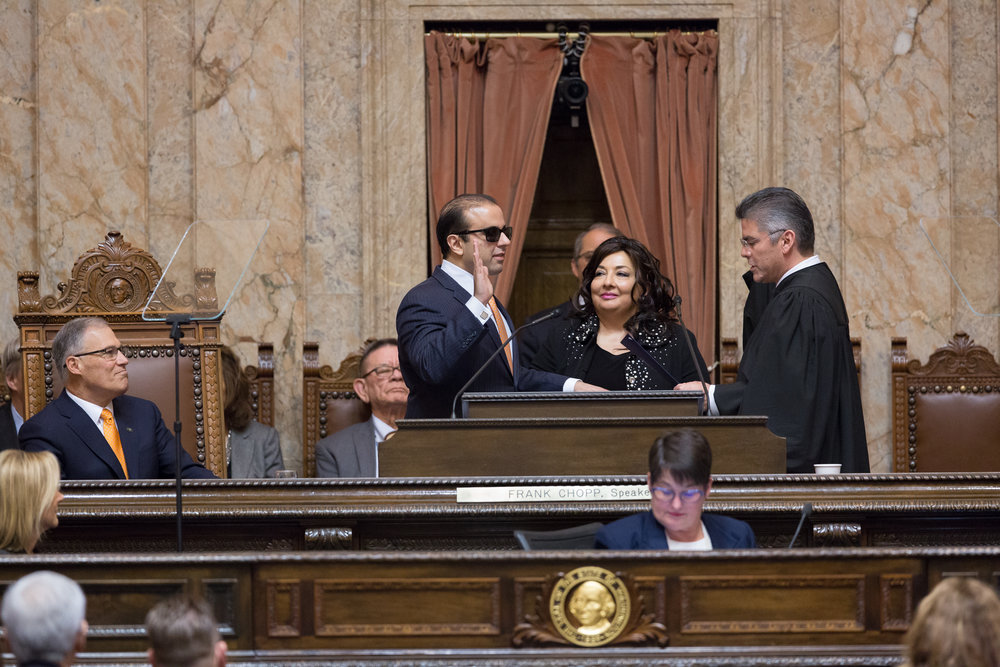 Cyrus Habib sworn in as WA 16th Lt. Governor
In 2016, Habib ran for being elected as the 16th Lieutenant Governor of Washington State, challenging embattled twenty-year incumbent Brad Owen. He defeated Republican Marty McClendon by a nine-point margin in the general election in November. Even then-president Barack Obama publicly endorsed his campaign, recording robocalls that encourage voters to cast their ballot for him. During this period, he even became president of Washington State Senate.
Since he converted to Catholicism in Oxford, UK, Cyrus Habib is going to mass at Seattle's St. James Cathedral, which was a great rescue for him when his father was diagnosed with cancer, in 2016: "I experienced that consolation myself every time I speak with my role model, the Rev. Mike Ryan, the pastor of St. James Cathedral in Seattle." Thank to Rev. Mike Ryan, Habib discovered the Jesuits through James Martin, sj's book "The Jesuit Guide to (Almost) Everything", which introduced him to the Jesuit charism in a deeper way.
Last year, he decided to climb the Uhuru Peak, Mount Kilimanjaro, Tanzania, to launch the fundraising of "Boundless Washington", a new outdoor leadership program for young disabled people.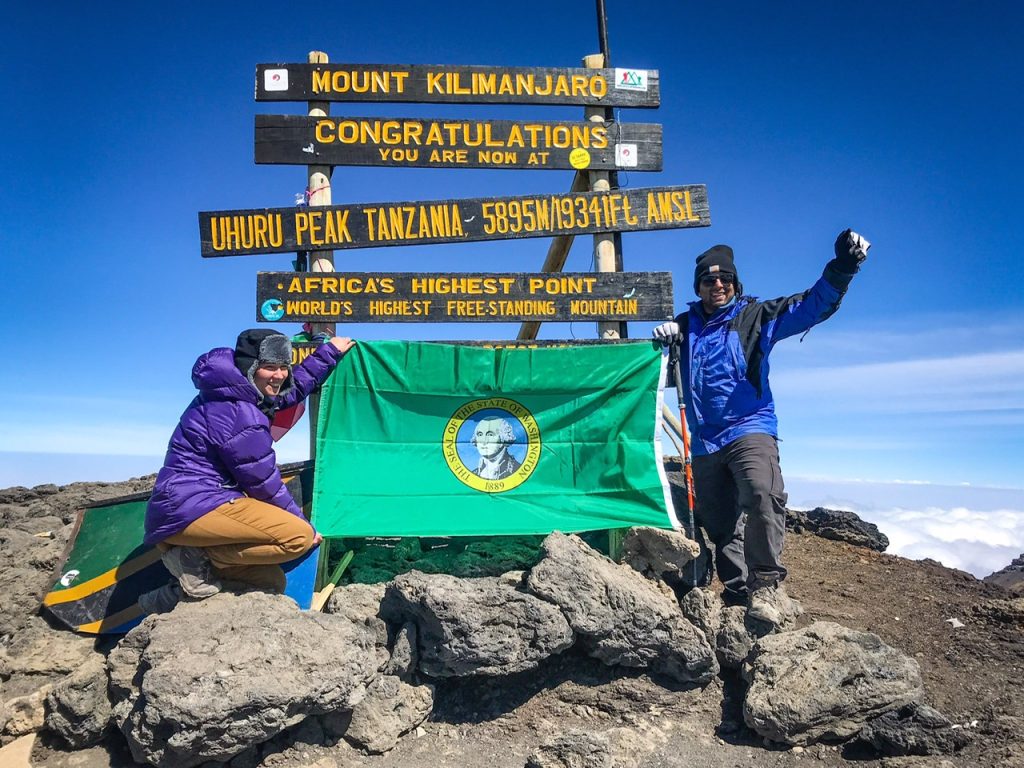 Lt. Gov. Cyrus Habib and Kristina Brown, executive director of his office (left) on top of Mount Kilimanjaro (© Lt. Gov. Habib's office)
In the same text he wrote ten days ago wherein he explains, through America Magazine, why he will not seek reelection as Lieutenant Governor in November, we can read the following testimony: "I have felt called to a different vocation, albeit one that is also oriented around service and social justice. I have felt a calling to dedicate my life in a more direct and personal way to serving the marginalized, empowering the vulnerable, healing those who suffer from spiritual wounds and accompanying those discerning their own futures. For me, this is rooted in my faith in Christ's Gospel. But my desire to encounter something greater than myself by walking with the poor and abandoned of this world will be familiar to those of many different spiritual traditions. I have come to believe that the best way to deepen my commitment to social justice is to reduce the complexity in my own life and dedicate it to serving others."
Lt. Gov. Cyrus Habib meeting Jesuit superiors in his office in Olympia, WA
Although Habib has wanted to be a Jesuit since 2019, the Society of Jesus accepted to defer his entry in Fall 2020, when his term as lieutenant governor will be over.
And even if odds are already getting crazy to know who will go on the ring to succeed him, now that Cyrus Habib is bowing out to join the cloth, this latest one does not seem to pay attention to the pool of sharks anymore: "This decision follows two years of careful and prayerful discernment (…) but since that process has been almost entirely private, I realize this will come as a major surprise to my constituents and supporters." We feel that Cyrus Habib is getting ready for this and we are sure that his knowledge, experience and wisdom will be precious for his new life as a Jesuit. But he will need at least 10 more years – to start this November with a couple of years in LA – of new acknowledgment from the Society of Jesus before being called "Cyrus Habib, sj".
[1] King County is the judicial and electoral district that included Seattle, WA. This county includes – among others – Washington's 48th Legislative District where Cyrus was elected as the Representative to the State House in 2012.
[2] He lost his first eye at the age of 2 and spent much of his childhood in painful medical procedures and grueling chemotherapy before losing his second eye at the age of 8 and becoming fully blind.