01/07/2013


News from Nepal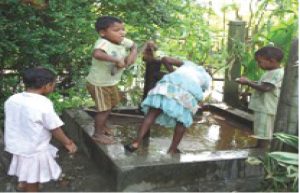 We rejoice in our faith that God is always with us, as we again prepare to celebrate Jesus' birth. I recently hiked to the top of Pulchowki, the highest point on our valley's rim. A shrine to Shiva marks the summit. Shiva, for me, is simply another name for our ever-present God.
This year has brought a few minor changes. I have moved to a new residence, Kamal Niwas, along with Fr. Casper, J. Miller and Fr. James P.A. The three of us care for several young men who are "pre-novices." They are spending a year with us as they and we consider their future as possible Jesuits in Nepal. Nine men joined us in July. It was clear for four of them that ours was not the life they wished for. The others joined me on this hike. Fr. James P.A.takes care of the pre-novices. Cap Miller and I help with English teaching and we have a good teacher to guide their Nepali studies.
Fr. Cap Miller is the Dean of our "Collegians Program." These fourteen young Jesuits have completed their noviciate spiritual training and pronounced their first vows. They are all studying at St. Xavier's College. Five of the men are from Bangladesh and will return there after college studies. The other nine, all from India, have devoted their lives to Nepal.
The Nepal Jesuits continue their service in the fields of education, social service and pastoral care. This year we have begun a school at Sadakbari, a village in Jhapa District, close to the border with the Indian state of Bihar. Our largest concentration of Catholics is there.
Fr. Boniface, our Regional Jesuit Superior visits the school's first class of students. Classes use the village church for now. We have bought land and are busy fencing it, and preparing to build temporary classrooms. We hope the school will grow to become a high school for our Catholics in the area. These people are mostly farmers. Some have land of their own. Many farm others' land, share the costs and profits with the land owners.
Fr. Ignatius Hemrom and Br. B. Rajashekaran are taking care of the school and living in rented quarters in the village. They provide pastoral as well as educational services to our parishioners.
Our Tipling mission, to the north west of Kathmandu, continues to thrive. Thanks to Fr. Jiju, Fr. Jomon, and Br. Ayar, the local school results greatly improved. The parish youth continue to be active. In October they joined a national Catholic Youth Camp in Pokhara, where they showed great talent and proved to be responsible young adults. Fr. Arul Selvam has now replaced Br. Ayar. The parish primary school boys are presently taking part in the Moran Memorial "Under Five Foot" football tournament at St. Xavier's Godavari. These little fellows have a tiny practice field in their village, but are strong and athletic, so can stand up to, and certainly outlast, our local players.
Please pray for these young men and for us who are helping them become good Jesuits, who will devote their lives to the people of Nepal.
Our five pre-novices surround me. The men on the left, Tarcius and Francis, are from our parish in Jhapa District, Nepal's south-eastern corner. Boney and Augustine are top center and right. Both are from the south western India, the state of Kerala. Naven, to the right of me, comes from the cental Indian state of Chhatishgarh.
You can count on my prayers, and those of all the Nepal Jesuits, that God will bless you and your families at Christmas time and throughout the year. We pray especially that you will experience Emmanual, God with Us, who guides us through life.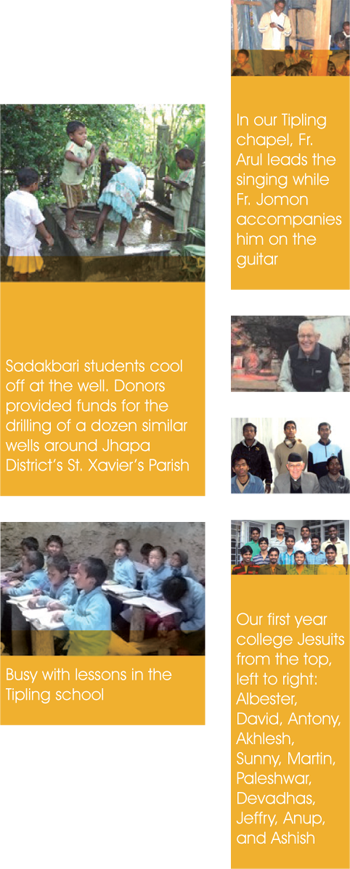 Fr. G. William Robins, S.J.
brobins@jesuits.ca
Canadian Jesuits International
70 St. Mary St.,
Toronto, ON,
Canada M5S 1J3
Jesuit International Missions
2050 N. Clark St.,
Chicago, IL, 60614, U.S.A.
Nepal Jesuit Society
G.P.O. Box 50,
Kathmandu, Nepal
brobins@jesuits.ca,
nepalsocius@gmail.com