17/12/2017


Testimony about the Cleveland Congress
" Uniting our frontiers "
What a better way to begin the summertime than with the every-four-year WUJA congress? Established in Bilbao in 1956 with the aim of commemorating the 400th anniversary of Saint Ignatius of Loyola's death – founder of the Society of Jesus and inspirer of the spirituality movement that bears his name –, the World Union of Jesuit Alumni (WUJA) brings together former pupils or students of Jesuit schools and universities as well as Jesuits' friends in the entire world to build international relationships between these people and to think about different ways of promoting peace and justice in a better connected and more sustainable world. To strengthen those objectives, WUJA built up congresses, breathtaking three-day conferences where we are got to wonder and to educate not only about the foundation of the Ignatian spirituality but also and especially its influence all over the world through the most diverse fields like business, law, health, services, arts, …
After two first congresses organized in Rome (where seats the Superior General) in 1967 and in Versailles in 1986, WUJA decided to organize its world meetings regularly going from a geographic province to another one, with the aim of better connecting each other. Beginning in Europe in 1991 in Bilbao, it goes then to Sydney (South-East Asia) in 1997, then to Calcutta (Middle-Asia) in 2003, Bujumbura (Africa) in 2009, and Medellin (Latin America) in 2013. Since the Burundi's edition, WUJA has wished to organize its congresses every four years. That is why we had the honor to participate to the one of this year – four years after the Colombian edition –, organized for the very first time in the North-American region. By the way, a new meeting is already taken in Barcelona, Spain, in four years, to start a new round of the regions, starting again with the European one, in the home country of Saint Ignatius. A come back to the roots in a way…
Here we go so, in this very end of June, to Cleveland (OH, USA), fleeting capital of the Jesuit world, under a trying heat – characteristic of the bipolar climate of the Great Lakes region. We were first gathered between young adults for an early networking reception animated by Christopher Lowney, former managing director of JP and present chairman of the board at Catholic Health Initiatives, one of the America's largest healthcare/hospital systems. He is also and especially known as the author of "Heroic Leadership", translated into eleven languages and telling the reasons why the Society of Jesus has developed a remarkable tradition of leadership since its beginning.
Among the other guest stars that this 2017 congress gathered, we had to mention several Jesuits who took part into it. In the first place, Rev. Arturo Sosa, S.J., 31st Superior General of the Society of Jesus, who took more than two hours to answer our questions via webcam from his roman seat: "We are called to adopt a meeting attitude, to get out of our usual ways to behave, to imagine the ways how to reach people where they are", he said. Let us underline also Rev. Timothy P. Kesicki, S.J.'s amazing keynote ("The World is our home"). He is native of Erié, the city lining the same-name lake onto where Cleveland is as well, and who studied at John Carroll University, where our congress stood. Rev. Kesicky is from now on the president of the Jesuit Conference of Canada and the United States, headquartered in Washington, D.C. after having served on the boards of Jesuit Refugee Service/USA and America Magazine. Rev. Gregory J. Boyle, S.J. testified over his action in socially reintegrating gang members from the poorest neighborhoods of Los Angeles, via his bakeries, Homeboy Bakeries, which know an endless growing success, serving more than 10,000 people each year. He earned the University of Notre Dame's 2017 "Laetare Medal" for his action. This is the oldest and most prestigious honor given to American Catholics. Last but not least, Rev. Peter Balleis, S.J., former international director at Jesuit Refugee Service for eight years and today working at Jesuit Worldwide Learning (JWL) where he is in charge of providing certificate and diploma programs to those who live in refugee camps and in places where higher learning is out of reach.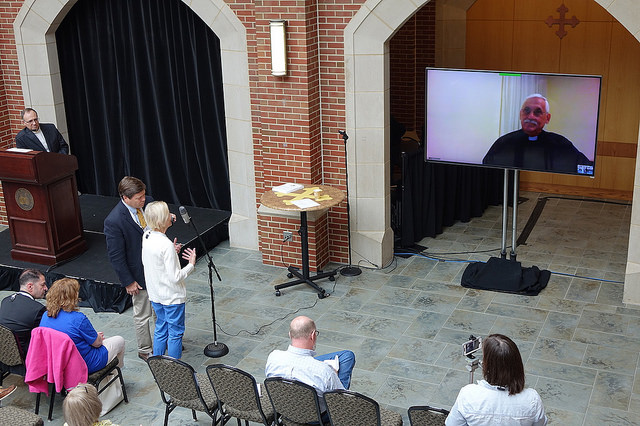 Alongside those brilliant orators, tens of concurrent sessions were organized (two times a day: in the morning and in the afternoon), animated by professional workers and academic leaders on topics among the most diverse and dedicated to improve our sense of duty in a constantly changing world that rolls too often without any strong markers. On a personal view and not being able to attend them all, we have, for example, followed a conference entitled: "Social Entrepreneurship: Empowering poor persons to be businesspeople and create jobs" animated by three elders and/or professors of American Jesuit institutions; or another else: "Best practices and successful trends in mission and identity activities in Jesuit higher education". But the conference that we particularly sure enjoyed is the Young Alumni Media Panel, where we could ask all our questions during more than an hour to three American media professionals, representing NBC News, RealClearPolitics and American Media. At the end, we will have had the benefit of thirty workshops and more than 60 talk showers. In three days, what an achievement!
But the WUJA's world congresses, beyond their obvious teaching aspects, are also and especially meeting and networking places. Coming into the United States is the opportunity of discovering the true force that what is the American Jesuit network and its arms JRS, ISN (Ignatian Solidarity Network), its publishing house Loyola Press, and obviously the great American Jesuit universities, such as Georgetown, Fordham, Santa Clara, Loyola, Boston College, Holy Cross, … To allow us to meet each other in a comfortable way and to meet the 500 participants who were present, the team of this 2017 edition used all the means of quality at our disposal: welcome Palooza director featuring local food trucks, Rock & Roll Hall of Fame reception featuring discussion on Rock and Spirituality with Dave Nantais from the Detroit-Mercy University, a première of "Emergent Universe Oratorio" performed by the Cleveland's BlueWater Chamber Orchestra and the Cleveland Chamber Choir, and even a baseball game!
At 2017 WUJA Congress, Cleveland's edition, we could meet alumni geographically closer than us, such as Mathilde Wattier, from St. Stanislas College of Mons, and Arnaud Hoc, from Our-Lady of Peace College of Erpent, who came to strengthen the Belgian delegation. United to Clement Haag, academic counselor to the Avignon and the Lands of Vaucluse University, we formed a young French-speaking band ready to embrace all that this WUJA congress made in USA had to offer to us.
Obviously, we could not end this story without speaking about our meeting with another alumni of St. Michael's College, the president of WUJA, Alain Deneef, who besides was reelected at the head of the organization for a new four-year term. As an epilog of this 2017 edition, we both of us drove away, on the Midwest roads: Detroit – Columbus – South Bend (University of Notre-Dame) – Chicago, where we enjoyed a wonderful firework for Independence Day, then to St. Louis through the famous Route 66 and where we were happy to visit a museum dedicated to the Jesuit life at the time of the Conquest to the West, itself owned by St. Louis University. We left each other in Indianapolis, but it was a goodbye that called for future projects together, at the service for others.