15/07/2022


Farewell word of the outgoing president Alain Deneef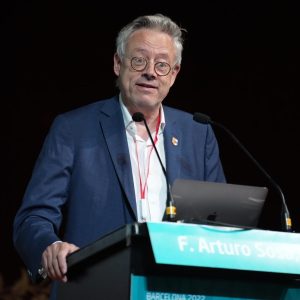 Dear Father General, dear alumni, dear friends,
I would like to wish you all an excellent Congress and already thank with all my heart those who organised it in very difficult circumstances.
My first world congress was held in Loyola-Bilbao in 1991. And I was half my age.
Today, in 2022, this is my seventh World Congress.
What have I learned over the years, and have I learned anything?
It seems to me that I have learned that alumni are a product of the past looking for a future.
I have learned that we can only sublimate that past, that is, relive it in the present time, if we project ourselves into the future.
I discovered that one way to get to that future is to walk with the Jesuits in a conscious and purposeful way, surely more than we did in high school or university.
I have realised that only a very small minority of the alumni will feel called by this and that is fine.
I know that those I call Ignatians are those who have been touched by a fire and who pass that fire on to others.
I have also understood that walking with Jesuits is like sharing the road with pilgrims on the way to Santiago de Compostela or on the Camino ignaciano. We know that we can walk with people for a few days and then lose sight of them because they are walking a little faster than us or a little slower, or because they have decided to stop earlier, or later, on the way to find accommodation for the night, but we know that we will be very happy to meet them again – who knows? – sometime later.
I also know that in our lives there is an arrow of time.
It was Jean Jaurès, the great French socialist leader, who said: it is by going towards the sea that the river remains faithful to its source.
We are not asked to go back permanently to the source of our life, we are asked to go to the sea, after having taken the winding course of the river, sometimes interspersed with rapids, after having adopted its sometimes wide and powerful course, before perhaps emerging on a majestic estuary.
It seems to me that at each of these stages, at different times in our lives, there may be a role to play alongside the Jesuits, according to our possibilities, our experience, our needs and certainly our desire.
When the world congress returns to Europe in about 31 years and I participate – God willing – in my 15th world congress around 2053, companionship in mission will have taken me to destinations unknown to me today, with Jesuits and Alumni I do not yet know, but I know that the frontiers to which we will go will be worth discovering, because they will be where my human brother will reveal himself to me, in his earthly bark and in his Christ-like figure.
As I say goodbye to you as President of WUJA, let me wish myself and let me wish you reconciliation with ourselves, with our brothers, with our planet and with God the Creator.
Dear alumni friends, you are the best of me.
Thank you for being so that I may be.